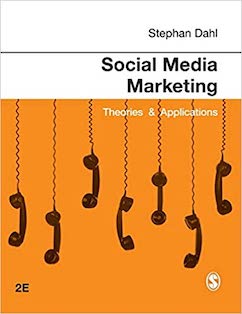 A scholarly approach to Social Media Marketing, with many practical examples.
Buy it now via bookfinder.com (worldwide book search)
Add it to your bookshelf at Goodreads
Find blog posts related to #SocialMediaMarketing
"Finally, a book on Social Media Marketing that will stretch the inquisitive minds of a new generation of students."
Dr Julia Wolny, University of Southampton

About the book
The Second Edition of this text maintains a scholarly approach, providing students with an up-to-date understanding of both the theory and practice of social media marketing, whilst taking a thorough refreshment of the cases, examples and the literature.
It offers a critical evaluation of the theoretical frameworks that can be used to explain and utilise social media, providing discussion questions and further reading throughout. Readers are invited to think about the different types of social media users and explore topics such as brand loyalty, co-creation, marketing strategy, measurement, mobile platforms, privacy and ethics. As well as tracing the emergence and trends of Web 2.0 and what they mean for marketing, the author also considers the future for social media marketing.

The book is supported by real-life examples and case studies from a range of industries, companies and countries such as China, Canada, Sweden and Singapore. They include DHL (Germany), Dubai Foundation for Women and Children, Google (Taiwan), Addict Aide (France) Canada (opera Vancouver), Britain (British Tourism), Procter & Gamble (Global), Maggi (India), McDonald's (Global), eBags (US/Global), Vodafone (Romania).

Suitable for Marketing, Advertising or Media students taking classes on social media or digital marketing at upper undergraduate, Masters or Doctoral level.
"…addresses emerging and new concepts which are rarely included in other texts, such as social messiness, the experience economy and social contagion."
Annmarie Hanlon, University of Derby

Content
Part I: Understanding Actors in Social Media Marketing
Chapter 1: Consumer Tribes and Communities
Chapter 2: Users and Co-creation of Value
Chapter 3: Brand and Anthropomorphic Marketing

Part II: Understanding Platforms in Social Media Marketing
Chapter 4: Traditional Social Media Platforms
Chapter 5: Gaming and Hybrid Platforms
Chapter 6: Mobile and Location-Based Platforms

Part III: Understanding Content in Social Media Marketing
Chapter 7: Persuasiveness Chapter
8: Engagement Chapter
9: Electronic Word of Mouth (eWOM)

Part IV: Understanding Context in Social Media Marketing
Chapter 10: Measurement, Metrics and Analytics
Chapter 11: Cross-Cultural Aspects and Implications
Chapter 12: Privacy, Ethical and Legal Issues

Afterword: Where Next for Social Media Marketing?
Online resources for this book are available here