Out Now: Ethical and Social Marketing in Asia Book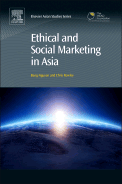 Available now is a new and really exciting book focusing on both ethical marketing as well as social marketing specifically in Asia, edited by Bang Nguyen and Chris Rowley.
The book is divided into two parts: The first part focuses on ethical marketing, e.g. the application of ethics into the marketing process, the second on social marketing, e.g. using marketing concepts to influence a target audience for the greater social good.
Reflecting the diversity of Asia, each part is then further subdivided into country/region specific chapters, ranging from ethical marketing in India, Pakistan and Bangladesh to social marketing Cambodia, the Philippines, Cambodia and Vietnam.
There is also chapter written by me in the book: The chapter looking at social marketing in China, Taiwan, Japan and South Korea, specifically focuses on the cross-cultural aspects of conducting social marketing in these countries. It does that by using the Framework for Cross-Cultural Social Marketing.
To get more information about the book, please take a look at the publisher's website. Given the scarcity of material specifically looking at Asia, I'm sure it will be a seminal work in the area, highlighting much of the good work that is being done – and enabling researchers more easily to engage with this fascinating part of the earth.