Happy Holidays…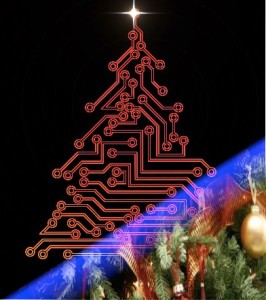 There is no denying it any longer: Christmas is moving digital. From sending out wiggly elf cards  to catching up with your favourite Christmas specials on iPlayer: we are moving the celebrations online and extending them to all our contacts on Whatsapp or our followers on Twitter.
Even marketing success becomes virtual. Take a look at how the success of the various christmas adverts is measured: The Telegraph asks if the most successful Christmas ad is Sainsbury's Christmas jumper ad – based on the times it has been viewed on YouTube.[1] Metro claimed that John Lewis's advert lost the top spot based on Twitter reactions[2] – and Business Insider debates how Facebook is stealing the video-show from YouTube, and what that means for Christmas advertising[3].
For years, we have also abandoned the high street for shopping online. Despite the great bargains (and heavy brawling) to be had in stores on the US-imported Black Friday, when it comes to shopping we have increasingly moved away from the real and to the virtual: Even when it comes to last minute gifts,[4] traditionally the reserve of the high street retailer, online now accounts for more spending than those cross-atlantic inventions like Cyber Monday and Black Friday combined[5].
And even the traditional Christmas card may become an endangered species: An increasing number of people are using technology to wish their loved ones a merry christmas – and it appears some people even spend more times on their tablets and phones texting, whatsapping and twittering than with their family around them.[6]
With all that technology bridging us together, maybe it is surprising to find out that people are actually also turning from high tech to low tech. Sales of fountain pens, for example, have been rising year on year[7]. Online forums where pen aficionados discuss their passion for the seemingly antiquated way of communicating have been blossoming. So maybe, Christmas hasn't become all technological, a claim so frequently made by the tech scrooges out there. But rather we have learned to use technology to our advantages: Yes, for somethings technology makes our lives easier. For others – there is always the personal touch!
So for this holiday, maybe remember the SomEEcard that went viral in various incarnations: "Today my phone died so I spent some time with the family. They seem like nice people!"[8] … Happy holidays!