Hello New Term!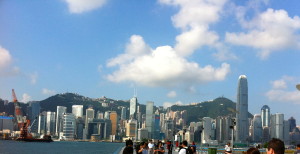 Looks like there is no denying it any longer… for me, this week is the start of the new term again: that means heading out to Hong Kong for September to run three inductions for our new students there  – followed by three block courses in Marketing Communications & Branding.
Teaching six or eight hours a day in a foreign climate isn't exactly child-play, especially when combined with a healthy dose of jet lag. Nevertheless, the great thing about it is that I get to stay in Hong Kong for almost all of September, which means that rather than just flying in and out I also have some time to catch a breath and catch up with some colleagues and friends there.
I've done this particular pattern over the last three years, which gave me the chance to get to know Hong Kong a little more than just visiting for a brief stint – and even strike up a few friendships and get together with local colleagues there. I'm also quite lucky that I have some colleagues from Hull who will join me during my time in Hong Kong. This also gives us a chance to catch up outside of the university surroundings, which is a nice change of scenery!
Of course, there are also all the other attractions of Hong Kong, like fantastic food, some for the adventurous, and a brilliant place to study relentless over-commercialisation. And, here's to hoping that the weather (very hot and very, very, very humid at this time of the year!) allows for a run or two along one of my favourite tracks in the world: Bowen Road. Luckily, I also have some editing to do on another book due out shortly and working on some papers with colleagues,… all of which will probably keep me from getting up to too much mischief.
I guess I should also follow Tanya's great advice on making a plan for the rest of the semester for when I'm back… I'll be more organised this semester. Promised!
And, of course, in the meantime… for everyone "back home": I hope you have a great start of the new semester!