Choosing where to publish academic books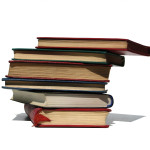 Books are, at least in marketing and in the UK academic world, sadly not often valued highly – at least in comparison to what is considered "real" publications in the form of academic journal articles. However, they are a great way to get your thoughts out there, present your research in much more depth and, maybe most importantly, to reach other target markets than purely academics. If you therefore decide to publish your own book (and let's face it, it looks so much better on a coffee table than just the latest edition of the Journal of XYZ), you should nevertheless tread carefully when selecting a publisher.
The general "packing order" (in terms of prestige) are books published by well established university presses (such as Cambridge or Oxford University Press) and trade academic presses (such as Sage or Routledge), followed by, quite a distance apart, the general trade presses (such as Harper Collins or Simon & Schuster) – and , very, very far apart, the "option of last resort": vanity presses. Check this post from Tanya Golash-Boza for a her view of which type of publisher to choose. Of course, you should also consider if your topic is a natural fit with the publisher – some publishers will only work with big selling text books for large modules, others like a more "traditionally academic" approach. Just take a look at your bookshelf to see the types of books you have there – I'm sure you can quickly spot the publishers who aim for the large audience of first year undergraduate modules – or the publishers who like to publish books which are a bit more "off the beaten track".
While prestige and "fit" may be one point to consider, another point to consider is what the publisher will actually do for you: remember it is not just about nice ideas, but also about selling the book in the end, and making it a good book (which you may want to keep on your coffee table ;-))!
From having worked with four different publishers, all in the trade academic area, I think the relationship with the editor is probably the single most crucial aspect of the publishing process. I have no experience how trade press or vanity publishers work – but from Tanya's blog post it seems quite a different ball game. Also, the second part of this article in the Times Higher may be of interest if you think a vanity press is a good idea…(or any of the publishers emailing you with "publish your research now" in the subject line…). Remember though that editors can move, and that the replacement editor may have quite different ideas! I had the unpleasant experience of this once, where the editorial team moved from one publisher to another – and the new team decided that the book was no longer exactly what they wanted. Those things are, probably, rare, but they are quite a problem when they arise!
The other point to consider is probably how well you get on with your editor – and what role she or he should play when developing the manuscript. From my experience, I have had everything from the totally laid back editor who only wanted a finished manuscript that pleased the reviewers – to an editor who seemed genuinely interested in the topic, read drafts and gave feedback and suggestions during the writing process. My personal preference would be for the latter, but that is probably personal style.
Many people seem to forget that your book (at least for academic presses) will get peer reviewed: often not just by 2 or 3 reviewers like when publishing for a journal, but generally by 5 or 6 reviewers. Again, your editor's role  is pretty crucial here. The editor selects the peer reviewers, and although different to journal articles, the peer reviewers will know your name – but you won't know who they are. Acknowledging all the vagaries of the peer review system, you can imagine that more reviewers means: more vagaries. Therefore, selecting them wisely is pretty important. The good news is, that they don't have to agree, and that the editor is ultimately in charge of what gets published. Also, your editor might put some of their reviews into context. So having a relationship where you can have an open and frank discussion with your editor is pretty crucial when dealing with the sometimes contradictory feedback you are likely to get.
Finally, don't think your relationship with the publisher (and the editor) ends when you deliver the manuscript. Actually, you are only about half way there: what follows is the final editing process – and then the marketing of the book.
As the manuscript gets miraculously transformed into that beautifully bound book for your personal library there are a lot of editing and other chores to be done. Again, my experience here has been pretty mixed. For example, one publisher I worked with used an agent to clear all the required permissions for pictures and illustrations. Another publisher thought it was not their job, and the author team had to get permissions. I know it sounds like a small thing, but chasing a hundred copyright holders is not a very pleasant task (for me…)…
Even then when the book is standing in your bookshelf you are still not quite "free" to enjoy your work: The book needs to be marketed. And again, there can be large differences in what different publishers and editors do, which conferences they attend and what their sales agents are told. Again, having a close relationship and the support of your editor is probably key here in making the book a success – as otherwise you might end up with a beautiful book that … well… you, and you alone, have at home.
As Tanya suggests, know what you let yourself in for by asking colleagues who have published with a your chosen publisher – and don't forget to ask them how their editor was! Because which ever publisher you chose, your editor is the key person you will be working with. If you are not happy with the relationship from the start, then it might be good to think twice about signing up with that publisher.
Let me know what you think. Have you had any particularly good or bad experiences when publishing? Share it!