Writing panic…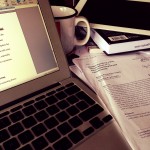 Oh isn't it great that it is Friday?! Well… sort of… I'm currently feeling much more like a being a student again, and panicking about meeting deadlines, as I promised a draft of the first section of my new book on Social Media to my editor. Unfortunately, I promised him that I'd deliver everything on Monday… and that means  that this weekend is probably going to be a weekend full of writing, rewriting and editing. Just as in the good old days, I seemed to have discovered a gazillion references last week that absolutely need to be in one of the chapters, or that really make the arguments so much better… Oh well. It truly feels like in the days of doing my PhD.
Of course, I'm actually pretty happy that I have discovered so quite a bit of additional material, at least it shows I'm not totally on a nerdy island where it is me and my self and everybody else has left because I went off on a tangent so obscure even my dearest friends had no idea what I was on about. But, (un)fortunately, it also means no Great Gatsby, Star Trek, friends… or whatever else is lurking around the corner. At least, the deadline is Monday morning (and I'm quite determined to meet it, rather than claim the dog ate my USB stick), so with a bit of luck next week should be a little more relaxed. It also means, that, hopefully, by next week, I have enough fun material to do something with on the blog here.
Again a massive thanks to everyone who took part in the survey 🙂 !! It was great to see so many responses – and interesting to see what you, as readers, wanted to see more of. So… stay tuned… some exciting new posts are coming your way.
But in the meantime: Have a good weekend. If you are a student revising: I feel your pain! If you are out there, having fun: please let me vicariously share your fun by posting lots of great pictures on facebook or twitter or whatever social media platform you use – and looking forward to catching up next week!