The Movie Poster – A space for Product Placement?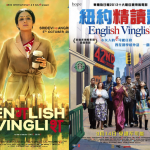 Just in case you ever wondered about the limits of (local ?) product placement…. Here is a nice one: Check out the poster for the Indian movie English Vinglish – in the original (left) and in the Hong Kong  (right) version. While the original shows no brand – there is a rather large Starbucks logo visible in the Hong Kong version of the poster.
If you have seen the movie, you will, of course, recall that a key scene of the movie is indeed set in a coffee shop in New York, where the main actress is trying to order coffee. With little English and no idea what the choices are, and thanks to the quite rude (understatement) sales assistant ("I asked how you are today!"), she is driven to tears and decides to learn English (the scene is available here).
Not surprisingly the scene takes place in a generic coffee shop ("Woman not good. Café not good" comes a little later in the scene)… Not quite the setting that most brands wish to sponsor.  It may, therefore, be a little surprising that Starbucks appears in the poster.
Maybe, riding on the back of the international success of the movie, Starbucks decided to sponsor… well, … the poster? Or, maybe, a creative in Hong Kong decided that the quintessential New York street must feature Uncle Sam, a yellow cab, a Broadway musical – and a clearly visible Starbucks for added authenticity? In other words, what are you actually looking at when you are seeing the poster? A sponsored poster? Or one that just has a random brand? Is there "advertising" inside the "advertising"? And how can you tell?
The problem with product placements remains, that they are on the one side adding reality (frankly you will see a Starbucks somewhere in NYC) – but on the other hand, they are blurring the boundary between entertainment and advertising, leading to a range of ethical issues.
Ethical issues arise especially, because many companies will not even disclose which products (or brands) are placed in movies (or posters, by the look of it). So for example, in the picture on the right (taken from Gordie Shore, a UK version of Jersey Shore) – is the Dr Pepper just accidentally in focus (and the only brand visible)? There simply is no way of telling. And, although in the UK, programmes which feature product placement show a "P" briefly at the beginning, it is never clear if the particular product you see is being placed there – or not. Quite a conundrum!