Why Social Media needs qualitative research – not numbers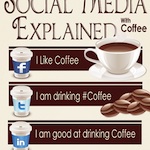 Social media (and the wider Internet for that matter) is full of numbers that appear to be explaining things… from 57% of users of network Y doing X to 46% of users of website B coming from C. The problem with all these numbers is that, although they seem to explain what is going on – they mean we forget to understand why it is going on. This is especially true in the case of social networks: many researchers (and marketing "gurus" at the same time) seem to treat social networks, and by that I mean anything from the classic social networks to forums, groups, everywhere where people interact online, just like any other mass media channel. Talking big numbers, rather than small stories.
The problem is, that, for the most part, these researchers forget that actually twitter users are not the same as people who watch ITV1, while facebook users are not the same as people who listen to Capital Radio. What many people forget is that social media networks are, for the most part, made up of circles of friends (or people sharing a common interest) who are using social media technology to do what they want to do. As Hart put it in 1992: The internet is a "growing community of communities", or as more modern authors would call it "Tribes". That makes social media very different from a traditional media outlet, even a traditional media channel for the most part. Understanding that "tribe members" are there with a purpose means that in many ways, social media is probably more and more like person to person conversation, or telephone conversations. Yes, social media can be measured more easily than say telephone conversations (Wouldn't it be fun, if we could say "37% of telephone users mention brand X when speaking to their friends") – but really, social media is and remains a big conversation between distinct networks of friends. When I talk with someone on twitter it is nothing like a TV advert, but it simply is a conversation that is public… that may be between me and all followers, or it may be between me and just one friend. And the ultimate dynamics that are governing the conversation are not numbers and probabilities, but quite unique relationship dynamics. Dynamics that may, span across different social networks: For example, I may be responding to something a friend wrote on LinkedIn by means of sending a @tweet. Or in fact, conversations may be strongly influenced by relationship dynamics which go beyond social media sites, when taking to someone I know in real life. Yet, all the quantitative tools and amazing numbers that we have won't account for that. Sentiment analysis simply doesn't account for irony or "in jokes".
Of course, quantitative numbers aren't useless… far from it. But when it comes to human interactions they explain some, but not all of the dynamics that are at work. And more often than not, what they do forget is that social media is actually not one big audience – but simply circles of audiences, tribes – or simply a few humans speaking to each other using this technology. And many conversations and relationships online are just as unique as those in real life. So we need to understand, more than simply "numerise", what is actually going on, if we are trying to make sense of consumers, followers, friends, contacts and whomever else we talk with…