Identification and the Arts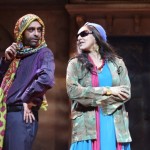 Yesterday I watched "Much Ado About Nothing" performed by the RSC. The piece is, of course, a very classical theatre piece, and I'm fairly sure many generations of students have despaired over the language and wondered why their teachers wanted it to read it. Staging such a classic piece isn't an easy task (haven't we all seen, like, 20 versions of it?), and trying to find a new or at least marginally interesting angle is probably extremely difficult. The more interesting was the angle that the RSC took: Iqbal Khan transferred the play from mediaeval Sicily to a reasonably timeless, though having a somewhat contemporary feel to it, India.
I'm not trying to become a theatre critic on this blog (I'm sure I heard a sigh of relief there somewhere), but from a totally personal perspective I have to say I liked the unusual setting. The added singing and dancing, in a very restrained Bollywood style, added several diversions from what my be seen as a predictable plot today.
Anyway, what was interesting to me was not so much the play, but rather the audience – or really the power of Identification Theory. In fact, as soon as we entered the theatre, my partner and I were quite surprised at the diversity of the audience around us. This was clearly not the usual West End audience, which is so often a distant whitewash from the otherwise so colourful streets of London. I'm not sure if the RSC intended to be more inclusive with this production, but it seemed they succeeded. It seemed that somehow this play has managed at least as much if not more than many outreach projects I have seen in highly diverse areas.
While there was little change to the plot, the lines were virtually unchanged (with India inserted only a few times where Italy originally was) – and even the names of the characters were the same, having the play performed by a mostly Asian cast made the play accessible and relevant to audiences that I doubt would have been keen on seeing it. While I have some serious concerns about how Identification Theory is all too frequently used in marketing (for example, to create an "aspirational" diverse impression of an organisation), I have to admit that what I saw around me in the theatre was testimony to the potential to use Identification theory to appeal to wider audiences. I guess it all comes back to the good old saying "Why should the devil have the best tunes?". After all, theories used in marketing can have pretty powerful effects – and put to a "good use" can really make a difference (Social Marketing, for example!). Let's hope we can learn more to harness the power for the better…