Could we be a little more exciting, please?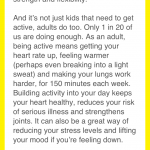 OK, I have been whining about (some) social marketing programmes being lacklustre rather than exciting – especially comparing them to their "commercial" counterparts. So far I was under the impression that Change4Life, the UK national healthier living campaign, was not exactly very dull (though hardly exciting) – but then I saw their new Fun Generator app…
The app creates "personalised" recommendations of activities for kids. So far, so good, though hardly something that exactly generates fun. You select how many kids will play, indoor or outdoors – and the app creates a list of possible activities (for a rainy day like today, it suggested such "exciting" activities as smoothie making and making instruments for me!).  But seriously, the way the information is presented felt boring to me – and I'm fairly certain that I have a better attention span than a six year old trying to figure out what to do.
I get that the app isn't primarily targeted at children – which may well be a wasted opportunity, as most children happily play with iPhones (especially commercial advergames!). Maybe I'm just being very harsh – but if I compare Fun Generator to some of the better (or even mediocre) advergames for sweets outthere, then I'm hard pressed to find a more boring app. Moreover, I'm wondering how ethical it is to ask for the users email address in order to access the app. The app isn't personalised really – and no account is created. Yet, you need to enter an email address, which will be passed on to the Change4Life team, to even access the suggested activities!
As so often, I wonder if this app is based on behavioural insights – or just a funky idea. If the behavioural outcome is activity for kids, then why are kids not targeted directly? If it is for parents: why so boring? Why do some, but not all texts address children, others adults?
I really wish Change4Life all the best, and that it manages to convert couch potatoes into active kids – but, I'm sorry to say, with this sort of app I have very serious doubts anyone will go and start growing their own veggies soon (another activity for today)!