Papers to Go: Mendeley <-> iPad (and Mac & PC)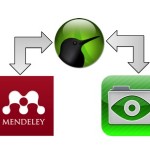 I'm a big fan of Mendeley, the free reference and paper manager, available for both PC and Mac. One of the great advantages of Mendeley is that it happily keeps my work PC and my Mac at home in sync. Unfortunately though, while there is an iPad Mendeley "Lite" version, the iPad version does not (yet) allow you to annotate PDFs. And let's face it – annotating is an important feature when reading papers!
I therefore rely on a different reader for the iPad, which syncs with my Mendeley library on the Mac/PC – and syncs it via Sugarsync (you could, of course use Dropbox, too – but Sugarsync gives you 5GB for free, Dropbox only 2GB)
The way I have set up the sync is as follows:
In the Sugarsync application, I've selected the Mendeley library folder as a synced folder (by default, on a Mac, this is located in "username > Documents > Mendeley Desktop").
Once synced to Sugarsync, I downloaded the Goodreader app for iPad. It's not a free PDF reader – but modestly priced at £2.99.
In Goodreader I added syncing with Sugarsync by tapping on "Connect to Servers" and adding Sugarsync from the box that appears. After filling out the account details, Goodreader asks you to located the folder(s) to sync (in my case "Mendeley Desktop").
Once linked, Goodreader will download all of the papers from Mendeley.
The papers can then be read "on the go", annotated etc…
After reading/annotating or after adding new papers, simply remember to click sync and Goodreader/Sugarsync will nicely keep the Mendely Library updated with the annotated versions of the files.
The result is that once I have a new paper, I just add it to Mendeley – and I can then take it with me on the iPad and annotate on the go.