Book: Degrees 'R Us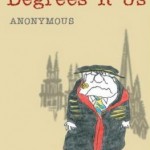 The book "Degrees 'R Us" is the sequel to A Campus Conspiracy by "anonymous", again set in the fictional university of St. Sebastian, which this time has acquired a new Vice-Chancellor, who cares less about high-brow thinking and more about deeply filled coffers. Not surprisingly, the new vision focuses more on marketable degrees such as Celebrity Studies – or high-flying, jet-setting partnerships with industry (and a few shadier figures) in the form of a degree in Casino (cum Brothel) Management, while unprofitable endeavours such as philosophy and theology become largely superfluous to the educational at this traditional university.  Of course, this results in not unsubstantial upheaval at this eminent institution – and a lot of quite amusing tales along the way, such as the great attractiveness of a larger than life, redesigned St. Sebastian "portrait", which attracts hoards of  civil partnership ceremonies to the campus (marketed as "Mixed Blessings").
The book takes a very different turn in terms of plot line from its predecessor, although some of the characters reappear. Yet, reading it out of sequence is probably not a good idea – as it draws much on the contrast between the "old and stuffy" St. Sebastian encountered in the first book – and the "gung-ho" attitude of the VC in this book. While the narrative strays into the incredible at stages, there is certainly a taste of reality to be found by most academics who have found some modern education being primarily focused on attracting students and profits – rather than providing education and intellectual backbone.  Given the authors' indirect links with the University of Wales, I'm also wondering if the book is not a little influences by the activities of UoW which came to light late last year.
Overall a very different book  in terms of pace, I found myself laughing a lot at certain passages – especially in as much as they seemed exaggerated (as expected from a comic novel), they certainly had a faint ring of truth to them.
Again, this book is a bargain at £0.85 if you own a Kindle – and definitely worth it for a few hours of higher-education versus industry razzmatazz.