Book: Campus Conspiracy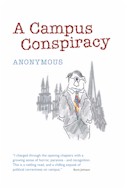 You can tell I'm a little behind in my reading list when I've finally started to read a book originally published in 2006.
"A Campus Conspiracy" is a satiric look at modern university life – set against the backdrop of the now defunct RAE (Research Assessment Exercise), and telling the story of a Professor of Christian Ethics being (in modern words) "nudged" into early retirement by a conspiring managerial force. The plot involves increasingly bizarre accusations against the  main character, ranging from sexual harassment to incompetent supervision because – while he is eminent – he is also expensive. The book definitely doesn't look kindly on the marketisation of higher education and rise of managerial culture in higher education – as the oblique (though at times very obvious) subject behind the plot. In the end, the grass looks very much greener across the pond – although this doesn't turn out quite as utopian as first thought.
The book is written by "anonymous" – rumoured to be a leading academic – but turning out to be Lavinia Cohn-Sherbok, former principal of an independent school and wife of a Professor Emeritus, who one may suspect contributed a few observations to the book. This makes the book intriguing, but also may reveal a few hitches in the book: While the book is undoubtedly a really good read, and very entertaining – the engagement with modern university culture resembles more "Grumpy old (Wo-)men" than real-life campus experiences. Of course, the point of the book is not necessarily an insightful critique of the educational system, but it sometimes feels like relying on stereotypes just a bit too much. This doesn't really distract from the entertaining side of things though – but could prove to be a major letdown if you are looking for an in-depth assessment of the evolving nature of HE in the UK today. Then again, the book is available for a mere £0.85 in the Kindle store. So if you have less than a pound to spare, are the proud owner of a Kindle device and are looking for a few entertaining hours of slapstick campus caricature it may well be a worthy investment.