Oh No! We don't do THAT [on tv – but everywhere else]!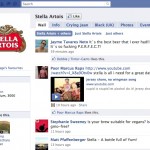 So… the alcohol industry has slammed a report by Gerard Hastings and Nick Sheron in BMJ that brandished the self regulation code as "clumsily imposed", and asks for much tighter regulation – similar to the regulations currently in force in France. The mad.co.uk report features a statement from Diageo (owner of Guinness amongst other) describing how well they (and others) comply with the various codes of practice. Of course, it would be correct to point out that the last upheld complaint against Diageo by the ASA was in 2006 – and that since then no complaint was upheld. So while compliance seems indeed the case for traditional media – the alcohol industry wouldn't be the first to be caught with their hands in the cookie jar when it comes to the much less (or even unregulated) area of the internet – and social media in particular ( check this study on advergames for some insights) – an area which Hastings & Sheron don't really mention in their report.
Take for example Guinness' owners Diageo – whose unnamed spokesperson so eagerly dismisses Hastings & Sheron's article. Diageo, is a signatory of the Portman Code – yet a little look at their facebook page would suggest the code has stopped working. Checking out some of the pictures there (don't worry, you DON'T have to click like to see them – just go here) seem to be quite in contrast to what the code says: Drinking is routinely displayed as important to social success (the many party pictures!), there is plenty of irresponsible consumption (or shall we say – over-moderate consumption), people who look quite definitely under 25 (see this picture) and on and on and on… And competitors are not far behind: Stella Artois, (owned by AB InBev) another signatory to the same code features a baby ("future stella fan") and even vomit on the pavement ("I drank 8 pints of Stella while in Liverpool, after I Puked I screamed Stellaaaaa!!!! into the night"). And the list goes on…
Of course, the industry could argue that the pictures I'm referring to are user generated – and then posted tho their respective pages. That is true. And of course, any advertising code can't – and should not- regulate what private people do. But – what the industry is playing on is people taking user-generated too much at face value – and not checking (or understanding) the technical details: These pictures are indeed uploaded by users – and not by the companies. But they are uploaded to "pages" operated by these companies (posted to the "Wall" to be precise). This means that the company as the owner of the page gets informed that a user has shared a picture (or other text) on the Wall – just like a normal facebook user gets informed when someone leaves a message on their Wall. This mechanism is, of course, there to avoid inappropriate content from being posted – and allows the page owner to remove posts quickly. I.e. if the pictures or text is still there after a few hours, the company has decided to leave it there – and it will be shared with anyone visiting the page. So while it may be the case that television and print advertisements are all nice and compliant with the codes – what happens in other media forms seem quite different. Legal? Probably… Ethical? You decide!