What happens when Marketing falls for Marketing?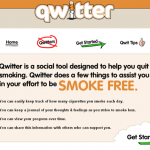 While collecting shirts from a laundry, I was rather surprised when a rather chirpy assistant suggested I follow them on twitter for lots of really important news. Following a dry cleaner on twitter? What on earth for? A quick look at their twitter activity (you can find it here) showed me, that I was seriously missing such exciting tweets as "Elton John & David Furnish take baby Zachary to Hawaii …If you've got post-holiday laundry take a look [special offer]".  Maybe I'm turning a little grumpy or simply old-fashioned – but to me following someone on twitter is essentially about two things: engaging in a conversation and/or getting relevant information. But unfortunately, a dry cleaner for me is mostly utalitarian. I'm not really interested in how they relate to Justin Bieber, sorry.
But this does highlight a rather sombre point: twitter and co, at least in some marketing circles seem to be taken as the ultimate communication tool – no matter what, if it's tweeted and on twitter it's going to have a massive impact. Unfortunately, many marketrs seem to totally forget that simply tweeting away is not the answer to all of the worlds problems. Twitter has great advantages, and I would be foolish to try and dismiss it as an excellent communication tool. I had some great conversations over twitter, learned how to articulate complex thoughts in 160 characters, and found out a few cool things. But twitter still is a tool for communication, not a solution for all that's wrong. Tweeting must have a purpose – and must deliver some outcome – otherwise it isn't going to take of.
Even social marketing is not immune to the problems this: Tobacco Free florida found out the hard way, when they designed their Qwitter Smoking Support Tool. It sounded like a great idea: you tweet howmany cigarettes you have smoked that day, and can then see a nice graph of the cigarettes on their website ( which used to be http://qwitter.tobaccofreeflorida.com/). The campaign was probably a real success: Most people needed only one or two tweets and seemed to give up. Unfortunately, they didn't give up smoking – but rather seemed to give up tweeting about their cigarette numbers. Was it a cool idea? Yes. Did it deliver "customer value"? Probably not…
So whileTwitter is undoubtly cool, do spare a moment or two before embarking on a twitter strategy. And please, ask yourself: Am I delivering value to my customers – or, in the worst case, am I delivering pretty plump marketing messages which will probably turn my true followers away faster than I can think.