Measuring Advertising: I like you!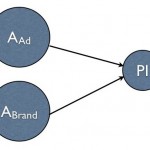 The emotional or affective reaction when seeing (or in short the "attitude" towards ) an advertising is a useful measure when testing ads in the "real world", especially when a potential purchase (or behaviour) can not be directly observed (as, really, in most cases when testing ads!).  "Attitude towards the Ad" (AAd) together with "Attitude towards the Brand" (ABrand) are seen as good predictors for outcome intentions,  called Purchase Intention (PI) (or sometimes Behaviour Intention, for example in Social Marketing), which then lead to actual purchases or behaviour. In other words, if you like and advert and you like the brand (or even better, both!) then you are more likely to purchase the product/service advertised.In order for AAd to be effective, it's obviously important recognise the advert (and some people would claim) to process the information contained in the advert – this is also referred to as Advertising Cognition, and in "technospeak" an antecedent to AAd.
Once AAd is formed, it potentially influences three other parts of choice making: In the most potent form, it would lead to a direct purchase intention. This is the argument behind the "strong theory" of advertising, e.g. you see an advert for a previously unknown product/brand and as a result decide to purchase it. Most marketers would claim that this is pretty unlikely to occur and that actually the influence of AAd (and with the influence of advertising itself) is more indirect (or weak).
The weakest possible influence would be to increase Brand Cognition   – or in other words increase your awareness that Brand X exists – AND it influences the formation of ABrand leading to  a potential Purchase Intention. Other researchers have claimed that Brand Cognition is not heavily influenced by AAd, and that AAd only influences ABrand (mostly because of information- or advertising-overload). The influence of AAd on ABrand can either be  "one-way" and dependent only on the AAd (e.g. a positive AAd will lead to a positive ABrand) or it can be bi-directional (i.e. influencing each other). The direct relationship would be likely if the individual had no previous experience and other information regarding the brand, while the latter would be more likely for individuals who have preexisting experience or other information (e.g Word of Mouth) about a brand.
Of course, AAd is influenced by a number of factors itself. The most common ones are:
1) credibility of the ad;
2) other/previously formed attitudes towards the ad;
3) attitude toward the advertiser;
4) attitude toward advertising in general;
5) the recipient's mood when seeing the ad.
AAd can fairly easily be measured. For example McKenzie and Lutz (1989) propose a three item measure: Good/Bad; Unpleasant/Pleasant and Unfavourable/Fabourable. There are some good arguments for measuring AAd using multiple items, especially as it increases reliability and it allows to differentiate different categories of answers. Some researchers argue heavily for a multiple item measure, while others contest this. For example Bergkvist and Rositer (2007) show that for concrete items (such as AAd) multiple items just add more data but not more information. They argue that a single measure (Good/Bad) is sufficient.
Either way, AAd is an important construct (or aspect) to measure when designing advertising. For example, when compared to the forced choice advertising measure discussed here, it gives a much more balanced view. For example, in cross-cultural comparisons, as measuring AAd allows for seeing how much difference there is between two (or more) adverts being tested – and which one would be an optimal ad.
Bergkvist, L. and J. Rossiter. 2007. "The predictive validity of multiple-item versus single-item measures of the same constructs." Journal of Marketing Research 44(2): 175-84.
MacKenzie, S. and R. Lutz. 1989. "An empirical examination of the structural antecedents of attitude toward the ad in an advertising pretesting context." The Journal of Marketing 53(2): 48-65.