Volunteering for "Real Life" Learning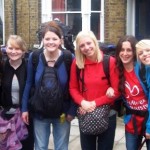 Each year I run a volunteer & service-learning module at Middlesex University. It's a very popular option on the MA Health & Social Marketing, though also catching on for the other MAs (it's also a compulsory module for the PGCert Health & Social Marketing).
Students who take the module are required to volunteer for a charity of their choice for at least 50 hours over the academic year (many actually do more in the end!). In addition to the volunteering experience the students then also complete a marketing related project for the charity involved. Normally the project is asked for by the charity itself, i.e. it is based on a real problem or issue the charity is facing at the moment. This ensures that all the projects are "real live" projects, they actually help the charities involved, and they provide a base for the students to apply the learning they have in class to a real situation and come up with a real solution (rather than just talking in class).
Some of students also write a blog about their experience and work, and I thought I'd share a selection of the blogs with you as examples from the module:
Bettina's blog is related to a project she carried out in Austria to increase involvement of young people in their local church in Vienna.
Pia's blog is about her work finding out motivations of people volunteering at a care centre for people with learning difficulties.
Dina's blog talks about her experience of helping to modernise the marketing of a North London arts centre.
Ka Wan's blog shows how she researched how to recruit more student volunteers.
Other projects have included marketing health services to a local community, outreach projects in various communities, fund raising and volunteer communication support.
To everyone who gave up their time, participated, gave back and learned while studying with their respective charities a big Thank You! And a very big Thank You also to the various charities and organisations that have helped us over the last three years to run this module – and to deliver around 2000 hours of volunteer service to local communities, recruit new volunteers and funds for future work.