Current Themes in Social Marketing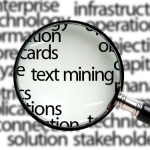 I recently held a workshop in Hamburg on research in Social Marketing and one of the bits of data I used to inform the discussion was a "Top 100 of Social Marketing Terms".
I obtained the data by text mining articles with the keywords Social Marketing published over the past five years and available from the EBSCO Business database of peer-reviewed, academic journals. In total, there were around 400 articles which had the keywords "social marketing", though over 100 of these were actually on non-social marketing topics, such as social media (vast majority) and sustainable marketing ( only a hand full). Thus, after "eyeballing" the articles I was left with 272 articles for the analysis, which all were "genuine" social marketing articles.
The full terms are given below. But here are some headline points:
Maybe not surprisingly, currently published social marketing researcg seems to be mostly concerned with health: public health is no 2 on the list, followed by health care (6), health promotion (12) etc. In terms of actual behaviours that are the subject of journal articles, again, health-related topics come out on top: with smoking & tobacco (23) and physical activity (31) leading the way. Interesting is what did not make it into the top 100: Sexual Health (102) & Pregnancy (129), though Alcohol prevent did make it (50), as did organ donations (27) and breast cancer (48).
Many published articles seem to be concerned with strategy: either as general marketing strategy (8) or specific Social Marketing Strategy (11). It was also good to see that market research was written about substantially (20). Interesting to note maybe that behaviour change did not make it into the Top 3 as might have been expected, but was found at 36.
The only theoretical framework that made it was "Protection Motivation Theory" (71), and related to this there appears to be a vivid discussion regarding the use of fear appeals (46) – a pretty controversial topic.
The table surely makes for an interesting discussion starter, particularly when thinking about what is all not in the top 100 (or sometimes anywhere). Few keywords seem to indicate that Social Marketing is slowly branching beyond the health realm and into other areas, such as environmental behaviour, financial behaviour (e.g. saving & pensions) and crime and crime-prevention.
Also the lack of theories seems worrying: while there is a lot of discussion about strategy (and to a lesser extent behaviour), the lack of theories in the list seem puzzling. Equally, hard to reach groups are not top of the list, as might be expected: Young consumers only make it at 62, and there is no mentioning of low income, low literacy and culturally diverse populations. On a similar note, while most of the published literature seems to talk about the successful campaigns, barriers to communication don't appear: there is no mentioning of reactance, and no discussion of limitations.
Of course, the table is just a small snapshot of a large field, much of which is not always focused primarily on publishing in peer-reviewed, academic journals. In fact, it seems that if you take social marketing as a field, the practice of it is much more diverse and up-to-date than the published research. Which really should be a wake up call to the academic community.
| | |
| --- | --- |
| Term | Score |
| social marketing | 688.05 |
| public health | 98.23 |
| social marketing campaign | 49.63 |
| social policy | 38.10 |
| public sector marketing | 26.94 |
| health care | 26.30 |
| social marketing program | 24.36 |
| marketing strategy | 23.50 |
| social change | 23.00 |
| social marketer | 23.00 |
| social marketing strategy | 22.77 |
| health promotion | 19.13 |
| voluntary sector marketing | 19.02 |
| united states | 17.20 |
| commercial marketing | 16.00 |
| social responsibility | 16.00 |
| social marketing conference | 15.85 |
| health communication | 15.54 |
| social marketing approach | 14.85 |
| marketing research | 14.33 |
| medical care | 14.26 |
| health care service | 14.25 |
| tobacco industry | 14.00 |
| disease control | 13.00 |
| new york | 13.00 |
| health service | 12.78 |
| organ donation | 12.00 |
| welfare fund | 12.00 |
| corporate social responsibility | 11.68 |
| social marketing framework | 11.68 |
| physical activity | 11.67 |
| consumer behavior | 11.09 |
| public health programs | 11.09 |
| social marketing principle | 11.09 |
| social marketing process | 11.09 |
| behavior change | 11.00 |
| marketing management | 11.00 |
| public sector | 11.00 |
| american marketing association | 10.09 |
| public health communication | 10.09 |
| sustainable development | 9.80 |
| vocational rehabilitation | 9.50 |
| occupational safety | 9.33 |
| brand identification | 9.00 |
| fear appeal | 9.00 |
| health education | 8.67 |
| social issue | 8.56 |
| breast cancer | 8.50 |
| fair trade | 8.50 |
| alcohol consumption | 8.00 |
| great britain | 8.00 |
| new zealand | 8.00 |
| social problem | 8.00 |
| social science | 8.00 |
| tobacco product merchant wholesaler | 8.00 |
| nonprofit organization | 7.92 |
| public opinion polling | 7.92 |
| advertising campaign | 7.50 |
| private sector | 7.00 |
| smoking cessation | 7.00 |
| target audience | 7.00 |
| young consumer | 7.00 |
| national youth anti-drug media campaign | 6.97 |
| effective social marketing | 6.92 |
| social change group | 6.92 |
| social marketing intervention | 6.92 |
| social marketing message | 6.92 |
| social marketing research | 6.92 |
| european union | 6.60 |
| health insurance | 6.44 |
| protection motivation theory | 6.34 |
| public health management | 6.34 |
| social marketing effort | 6.34 |
| social marketing theory | 6.34 |
| social service | 6.34 |
| vocational rehabilitation service | 6.34 |
| advertising material distribution service | 6.00 |
| business research | 6.00 |
| cancer research uk centre | 6.00 |
| disease prevention | 6.00 |
| european social dialogue process | 6.00 |
| family service | 6.00 |
| florida prevention research center | 6.00 |
| formative research | 6.00 |
| integrating social marketing into routine public h | 6.00 |
| internet resource | 6.00 |
| market research | 6.00 |
| marketing practice | 6.00 |
| new york state department | 6.00 |
| oklahoma health sciences center | 6.00 |
| other tobacco product manufacturing | 6.00 |
| practical implication | 6.00 |
| primary health care service | 6.00 |
| public health administration | 6.00 |
| service learning | 6.00 |
| service quality | 6.00 |
| social advocacy organizations | 6.00 |
| tobacco industry manipulation campaign | 6.00 |
| young people | 6.00 |