Scaring you out of Smoking…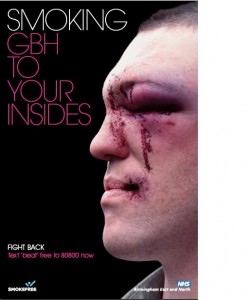 The NHS Birmingham East and North has launched a new social marketing campaign aimed at hardened smokers from a deprived background. The adverts accompanying the campaign are – to put it mildly – very much based on scare tactics. The obvious question being, will scaring smokers really work?
Using scare tactics (both for smoking and other social marketing causes) is certainly nothing new.. from falling tomb stones to promote Safer Sex to pictures of clogged arteries and tumors on cigarette packs – all has been used in the past. Sure, those campaigns were successful in the past. But what seems truly puzzling is that in this interview the creative director behind the campaign so clearly says: "What is needed is a new perspective". Yet, I wonder, how is the campaign truly different from the on-pack pictures, the clogged arteries and the hooks in cheek campaigns from the past? In fact, probably the most notorious point in all of this is that the first step in designing a campaign seems to constantly be speak to your market first, totally ignoring decades of valuable research and experience. Ignoring valuable research, and simply asking "will this make you quit?" leads to the inevitable outcome is a downward spiral of ever more shocking images. The problem is, that there is enough research out there that will show that (nearly) all smokers want to quit (so no need to drum that message), but what is needed is getting smoking cessation up their personal agenda. Will shocking images do that? Maybe… but then a more constructive approach could possibly be better. What is the point after all of ever more shocking people when then the actual services are hard to access or (probably more accurately) feel like hard to access?