Social Marketing and Crime Prevention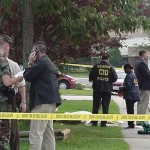 Social Marketing is more and more moving out of the health area and being used for other social issues. One of them is crime prevention. Yet, while there are plenty of case studies around where Social Marketing was successful in reducing crime, the academic literature seems to be largely quiet on that front. A successful example of such a campaign would be the "Let's keep Crime Down" Campaign run by WPP and the HomeOffice in the UK. The campaign reduced crime by £189 million, which resulted in a saving of £14 for every £1 spent on the campaign according to WPP. By all means a worthwhile investment.
After looking at the few (at least in comparison to health etc.) academic material I could find related to crime, the problem seems two fold: On the one side there is too much emphasis on Social Advertising and Public Service Announcements. On the other hand, there seem to be what could be identified as Social Marketing interventions – they are just not seen as being Social Marketing. Of course, both of these are very similar problems Social Marketing has in many other areas.
Similarly to many health issues, many so called Social Marketing interventions in crime appear to be little more than "Social Advertising", or Public Service Announcements. In other words, many campaigns simply rely on advertising alone rather than focusing on the complex behavioural issues that are necessary to prevent crime (both in terms of the perpetrator as well as the victim). Thus, their main focus is often knowledge rather than behaviour change, and while knowledge often precedes behaviour, it also often does not. Consider the many other issues like smoking: Every smoker knows smoking is bad (it's written on the pack…) – but still smokes.
Conversely, some community policing strategies are often very close to a social marketing intervention, yet often it is not identified as such. In fact, clustering neighbourhoods and engaging in extensive community work, feedback and projects is very similar to segmentation. . And while segmenting and analysing target groups is a fundamental first step towards behaviour change, what it isn't is a programme to actually change behaviour. The result is that some community driven programmes have more support from those they are not intended for, than from those who are the main target for behaviour change.
Conversely though, at the same time there is increasing awareness among marketing and social marketing practitioners about how powerful social marketing tools can be in crime preventions, accompanied with an increasing number of case studies and product development targeting the community policing marketing. For example, CACI, the company behind the Acorn classification system, has developed InSight Public, which can be used for neighbourhood policing.